African American Patients in Psychotherapy

by

ISBN: 9781351181365

Publication Date: 2018-02-19

African American Patients in Psychotherapy integrates history, current events, arts, psychoanalytic thinking, and case studies to provide a model for understanding the social and historical dimensions of psychological development. Among the topics included are psychological consequences of slavery and Jim Crow, the black patient and the white therapist, the toll of even "small" racist enactments, the black patient's uneasy relationship with health care providers, and a revisiting of the idea of "black rage." Author Ruth Fallenbaum also examines the psychological potential of reparation for centuries of slave labor and legalized wage and property theft.

Birthing Justice

by

ISBN: 9781317277217

Publication Date: 2015-12-22

There is a global crisis in maternal health care for black women. In the United States, black women are over three times more likely to perish from pregnancy-related complications than white women; their babies are half as likely to survive the first year. Many black women experience policing, coercion, and disempowerment during pregnancy and childbirth and are disconnected from alternative birthing traditions. This book places black women's voices at the center of the debate on what should be done to fix the broken maternity system and foregrounds black women's agency in the emerging birth justice movement. Mixing scholarly, activist, and personal perspectives, the book shows readers how they too can change lives, one birth at a time.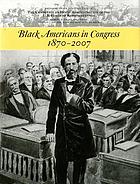 Black Americans in Congress, 1870-2007 by United States Congress Committee on House Administration
Publication date: 2008
Provides a comprehensive history of the more than 120 African Americans who have served in the United States Congress. Written for a general audience, this book contains a profile of each African-American Member, including notables such as Hiram Revels, Joseph Rainey, Oscar De Priest, Adam Clayton Powell, Shirley Chisholm, Gus Hawkins, and Barbara Jordan. Individual profiles are introduced by contextual essays that explain major events in congressional and U.S. history. Illustrated with many portraits, photographs, and charts.
Black Food Geographies

by

ISBN: 9781469651514

Publication Date: 2019-03-08

In this book, Ashante M. Reese makes clear the structural forces that determine food access in urban areas, highlighting Black residents' navigation of and resistance to unequal food distribution systems. Linking these local food issues to the national problem of systemic racism, Reese examines the history of the majority-Black Deanwood neighborhood of Washington, D.C. Based on extensive ethnographic fieldwork, Reese not only documents racism and residential segregation in the nation's capital but also tracks the ways transnational food corporations have shaped food availability. By connecting community members' stories to the larger issues of racism and gentrification, Reese shows there are hundreds of Deanwoods across the country. Reese's geographies of self-reliance offer an alternative to models that depict Black residents as lacking agency, demonstrating how an ethnographically grounded study can locate and amplify nuances in how Black life unfolds within the context of unequal food access.

Black in place : the spatial aesthetics of race in a post-Chocolate City

by

ISBN: 9781469654034

Publication Date: 2019

While Washington, D.C. is still often referred to as 'Chocolate City, ' it has undergone significant demographic, political, and architectural change in the last decade. No place represents this shift better than H Street, one of the neighborhoods devastated by the April 1968 riots after Martin Luther King Jr.'s assassination. Over the last decade and a half, the H Street corridor has changed from a historically low-income, African American neighborhood--featuring black-owned businesses that catered to the local residents--to one of the most sought after commercial and residential areas in the nation, replete with art house theaters, fusion restaurants, and rising property values that have pushed out much of the original population. Brandi T. Summers explores this shift from chocolate city to cosmopolitan metropolis, looking at the role of race in urban environments and how the neighborhood's aesthetics--from fashion and language to foodways and black bodies themselves--have been commodified and branded. Through ethnography, interviews, archival research, and media analysis, Summers sheds new light on the relationship between race, space, and capitalism."-- Provided by publisherWhile Washington, D.C., is still often referred to as "Chocolate City," it has undergone significant demographic, political, and economic change in the last decade. In D.C., no place represents this shift better than the H Street corridor. In this book, Brandi Thompson Summers documents D.C.'s shift to a "post-chocolate" cosmopolitan metropolis by charting H Street's economic and racial developments. In doing so, she offers a theoretical framework for understanding how blackness is aestheticized and deployed to organize landscapes and raise capital. Summers focuses on the continuing significance of blackness in a place like the nation's capital, how blackness contributes to our understanding of contemporary urbanization, and how it laid an important foundation for how Black people have been thought to exist in cities. Summers also analyzes how blackness--as a representation of diversity--is marketed to sell a progressive, "cool," and authentic experience of being in and moving through an urban center. Using a mix of participant observation, visual and media analysis, interviews, and archival research, Summers shows how blackness has become a prized and lucrative aesthetic that often excludes D.C.'s Black residents.
Black soldier, white army: the 24th Infantry Regiment in Korea by William T Bowers, William M Hammond, and George L MacGarrigle
Publication date: 1996
Provides an account of the experiences of the African American 24th Infantry Regiment, which was stigmatized for its deficiencies while its accomplishments passed largely into oblivion. The authors reveal that the 24th suffered from a virulent racial prejudice that ate incessantly at the bonds of unit cohesion and that hindered the emergence of effective leadership.
Freedom by the sword : the U.S. Colored Troops, 1862-1867 by William A Dobak
Publication date: 2011
The Civil War changed the United States in many ways—economic, political, and social. Of these changes, none was more important than Emancipation. Besides freeing nearly four million slaves, it brought agricultural wage labor to a reluctant South and gave a vote to black adult males in the former slave states. It also offered former slaves new opportunities in education, property ownership—and military service. From late 1862 to the spring of 1865, as the Civil War raged on, the federal government accepted more than 180,000 black men as soldiers, something it had never done before on such a scale.

Known collectively as the United States Colored Troops and organized in segregated regiments led by white officers, some of these soldiers guarded army posts along major rivers; others fought Confederate raiders to protect Union supply trains, and still others took part in major operations like the Siege of Petersburg and the Battle of Nashville. After the war, many of the black regiments took up posts in the former Confederacy to enforce federal Reconstruction policy. Freedom by the Sword tells the story of these soldiers' recruitment, organization, and service. Thanks to its broad focus on every theater of the war and its concentration on what black soldiers actually contributed to Union victory, this volume stands alone among histories of the U.S. Colored Troops.
The International Handbook of Black Community Mental Health

by

ISBN: 9781839099663

Publication Date: 2020-06-03

This is the first international handbook on Black community mental health, focussing on key issues including stereotypes in Mental health, misdiagnoses, and inequalities/discrimination around access, services and provisions. Making use of a cultural competence framework throughout, the book covers many of the classic mental health/developmental areas such as schizophrenia, mental health disorders, ASD and ADHD, but it also looks at more controversial areas in mental health, like inequalities, racism and discrimination both in practice and in graduate school training and the supervisory experiences of black students in universities. Unique among traditional academic texts addressing mental health, the book presents rich personal accounts from Black therapists and students. Many Black students who are training to become therapists or academics in mental health report negative experiences with white university staff in terms of a lack of support, encouragement, resulting in poor graduation outcomes.While institutional racism is a major issue both in society and universities, the editors of this Handbook take personal-level racism, microaggression and everyday racism as better models for understanding and analysing both these students; racialised interaction/communication experiences with white staff at university, as well as the racialised communications and inequalities in misdiagnoses, access to services and provisions in healthcare settings with white managers.

A Nation Apart

by

ISBN: 9780429450938

Publication Date: 2019-01-21

This book examines the ongoing struggle for social justice by and for African Americans. Examining the persistent rolling back of civil and voting rights for this population and other minorities since the end of Reconstruction, the author discusses the continued colonization of African Americans and the rise of white nationalism before considering what can be done to create a democratic version of Americanism. With discussions on the possibilities that exist for eliminating health disparities, increasing income and reducing wealth inequality, enhancing the urban environment and housing stability, reforming criminal justice, and reconsidering the case for reparations for the descendants of slaves, the author considers whether white nationalism is a threat to Democratic Americanism and if the declining fortunes of working class Americans can be reversed by means of a "Marshall Plan" for the United States. A study of the sustained racial injustices of American society over the last century and a half and their possible remedies, A Nation Apart will appeal to all those with interests in race and ethnicity and questions of social justice.
Notable Black American Scientists by Kristine M Krapp
Publication date: 1999
Profiles approximately 250 black Americans who have made contributions to the sciences, including inventors, researchers, award winners, and educators.
Race for profit : how banks and the real estate industry undermined black homeownership

by

Call Number: Keeanga-Yamahtta Taylor

ISBN: 9781469653686

Publication Date: 2019

Keeanga-Yamahtta Taylor offers a ... chronicle of the twilight of redlining and the introduction of conventional real estate practices into the Black urban market, uncovering a transition from racist exclusion to predatory inclusion. Widespread access to mortgages across the United States after World War II cemented homeownership as fundamental to conceptions of citizenship and belonging. African Americans had long faced racist obstacles to homeownership, but the social upheaval of the 1960s forced federal government reforms. In the 1970s, new housing policies encouraged African Americans to become homeowners, and these programs generated unprecedented real estate sales in Black urban communities. However, inclusion in the world of urban real estate was fraught with new problems. As new housing policies came into effect, the real estate industry abandoned its aversion to African Americans, especially Black women, precisely because they were more likely to fail to keep up their home payments and slip into foreclosure

The race whisperer : Barack Obama and the political uses of race

by

ISBN: 9781479837731

Publication Date: 2016

Nearly a week after George Zimmerman was found not guilty of killing Trayvon Martin, President Obama walked into the press briefing room and shocked observers by saying that "Trayvon could have been me." He talked personally and poignantly about his experiences and pointed to intra-racial violence as equally serious and precarious for black boys. He offered no sweeping policy changes or legislative agendas; he saw them as futile. Instead, he suggested that prejudice would be eliminated through collective efforts to help black males and for everyone to reflect on their own prejudices. Obama's presidency provides a unique opportunity to engage in a discussion about race and politics. In The Race Whisperer, Melanye Price analyzes the manner in which Barack Obama uses race strategically to engage with and win the loyalty of potential supporters. This book uses examples from Obama's campaigns and presidency to demonstrate his ability to authentically tap into notions of blackness and whiteness to appeal to particular constituencies. By tailoring his unorthodox personal narrative to emphasize those parts of it that most resonate with a specific racial group, he targets his message effectively to that audience, shoring up electoral and governing support. The book also considers the impact of Obama's use of race on the ongoing quest for black political empowerment. Unfortunately, racial advocacy for African Americans has been made more difficult because of the intense scrutiny of Obama's relationship with the black community, Obama's unwillingness to be more publicly vocal in light of that scrutiny, and the black community's reluctance to use traditional protest and advocacy methods on a black president. Ultimately, though, The Race Whisperer argues for a more complex reading of race in the age of Obama, breaking new ground in the study of race and politics, public opinion, and political campaigns

Remaking Black Power

by

ISBN: 9781469634388

Publication Date: 2017-10-10

In this comprehensive history, Ashley D. Farmer examines black women's political, social, and cultural engagement with Black Power ideals and organizations. Complicating the assumption that sexism relegated black women to the margins of the movement, Farmer demonstrates how female activists fought for more inclusive understandings of Black Power and social justice by developing new ideas about black womanhood. This compelling book shows how the new tropes of womanhood that they created--the "Militant Black Domestic," the "Revolutionary Black Woman," and the "Third World Woman," for instance--spurred debate among activists over the importance of women and gender to Black Power organizing, causing many of the era's organizations and leaders to critique patriarchy and support gender equality. Making use of a vast and untapped array of black women's artwork, political cartoons, manifestos, and political essays that they produced as members of groups such as the Black Panther Party and the Congress of African People, Farmer reveals how black women activists reimagined black womanhood, challenged sexism, and redefined the meaning of race, gender, and identity in American life.
The souls of black folk by W E B Du Bois
The Souls of Black Folk is a classic work of American literature by W. E. B. Du Bois. It is a seminal work in the history of sociology, and a cornerstone of African-American literary history. To develop this groundbreaking work, Du Bois drew from his own experiences as an African-American in the American society. Outside of its notable relevance in African-American history, The Souls of Black Folk also holds an important place in social science as one of the early works in the field of sociology.
The Tears of the Black Man

by

ISBN: 9780253035844

Publication Date: 2018-07-11

In The Tears of the Black Man, award-winning author Alain Mabanckou explores what it means to be black in the world today. Mabanckou confronts the long and entangled history of Africa, France, and the United States as it has been shaped by slavery, colonialism, and their legacy today. Without ignoring the injustices and prejudice still facing blacks, he distances himself from resentment and victimhood, arguing that focusing too intensely on the crimes of the past is limiting. Instead, it is time to ask: Now what? Embracing the challenges faced by ethnic minority communities today, The Tears of the Black Man looks to the future, choosing to believe that the history of Africa has yet to be written and seeking a path toward affirmation and reconciliation.

To make the wounded whole : the African American struggle against HIV/AIDS

by

ISBN: 9781469659527

Publication Date: 2020

To make the wounded whole is the first detailed examination of African American AIDS activism in all its depth and breadth. A diverse constellation of activists, including medical professionals, black gay intellectuals, hairdressers, church pastors, Nation of Islam leaders, and recovering drug users, pursued a wide array of grassroots approaches in hopes of slowing the spread of the disease in black communities.